WELCOME TO THE AMOS CHRISTIAN TRUST
Sharing the Word of God through small, attractive cards to bring hope, encouragement and love.
ABOUT AMOS CHRISTIAN TRUST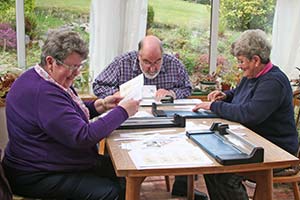 We are a Christian Charity, and our aim is to spread God's love through the distribution of our unique prayer cards. Our cards are hand made by volunteers, and distributed all over the world. With a beautiful image on one side, and a bible verse on the other, the cards have been bringing comfort, and helping people to share their own and God's love, for over twenty wonderful years.
We are the UKs biggest distributor of prayer cards for charitable purposes, and we love hearing from customers about how they use their cards, and the joy, comfort and assurance they have brought.
KIND WORDS FROM OUR CUSTOMERS
We really loved receiving your cards and our chaplaincy team find them enormously useful to hand out when visiting patients and their families. Keep up the good work.
WE RELY ON YOUR KIND DONATIONS
Your donation helps us to continue this work, and we're thankful for whatever you can give.