We are a Christian Charity, and our aim is to spread God's love through the distribution of our unique prayer cards. Our cards are hand made by volunteers, and distributed all over the world. With a beautiful image on one side, and a bible verse on the other, the cards have been bringing comfort, and helping people to share their own and God's love, for over twenty wonderful years.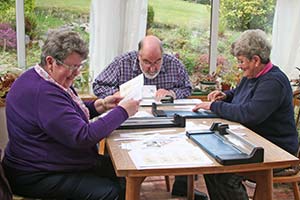 We are the UKs biggest distributor of prayer cards for charitable purposes. We love hearing from customers about how they use their cards, and the joy they have brought.
We have a catalogue that you can browse and search. You can also use your own images or Bible verse/prayer to create a unique card for your own purposes. There are no prices displayed on our website – you decide how much to donate for your order. If you want a large number of cards, we do need to ask that you cover the postage costs as well.
The Trust began in 1994, when our founder, the late Bruce Crerar, produced a special card for each member of the congregation of St John's Church in Edinburgh, to mark its 175th anniversary. Bruce wanted to make more cards, and make them freely available, so long as he could cover production costs with donations. He had a very strong conviction that his Christian Witness should be freely available and within reach of the poor.
With this, the Trust as we know it today was born.