Show that you care, support someone in need, lift spirits and comfort those you love. There are so many cards to choose from – or if there's something specific you need, just ask us. 
One of our wonderful volunteers showed her son the Scripture Care cards they were to give out at his father's funeral. What happened next was a strange coincidence, but is a great example of how the cards are used, by different people all over the world.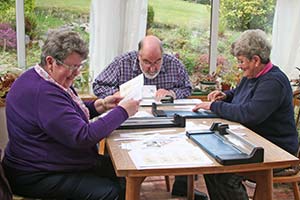 Margaret has been volunteering with us in Edinburgh for the last 20 years, since the charity was first set up,  and has produced thousands of cards,  helping many many people to share love, God's word, care and comfort. 
Her stepson regularly flew to New York for work, and had been due to have a meeting in one of the twin towers of the World Trade Center on September 11th 2001, but it had been cancelled in advance. When dramatic and fateful events unfolded on that day, that meeting cancellation turned out to be a blessing for him, but sadly others he knew were not so lucky on that day. He went back to New York to attend the Twin Towers Memorial Service.
Years later, Margaret's husband sadly passed away, and she showed her stepson the Scripture Care Card she had chosen to give to friends and family at the funeral service. Her stepson looked at it and said 'I already have one of those', and showed her the card he had received at the Twin Towers service. Not only was it the identical card, but it was one that Margaret had made herself while volunteering for us in Edinburgh. It had been delivered to New York, and found its way back to provide comfort to her own family.