We have many customers working in hospital and hospice chaplaincies, who regularly give Scripture Care card to patients in their care.  The cards are designed with lamination so they can be wiped down in a hospital setting where belongings in the ward need to be sterile.
We have lots of lovely stories from people who have received Scripture Care cards in their hospital bed, and how it has given them strength, hope and comfort.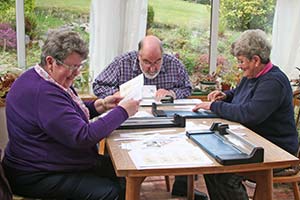 After 14 years of "retirement", Rev.John Bunyan is still honorary chaplain in a large hospital in New South Wales, Australia.  He writes:
These cards will be especially useful since at hospital I receive lists not only of patients who are C.of E., Presbyterian, etc, etc, but also those who identify as "Christian" and many of these are Maronite Catholics and Lebanese, Iraqi, Coptic and Armenian Orthodox etc, for whom being "Christian" is the important thing.  Many having come out of conflict and persecution in the Middle East and they value cards such as these.